Hi Everyone!
Last week my Gelli Arts Printing Plate arrived on the doorstep! I hope you had a chance to check it out, if not just click on the link above and it will take you to the Gelli Art website where you can get the scoop on what this is and how to use it.
I have to confess right here I jumped up and down, clapped my hands together and squealed with delight when the first print came off the printing plate! Yea, I know, a grown woman and all that...but seriously, it was super fun!!!
An added bonus to each print is a "ghost" image (below) from paint left on the printing plate. I also kept a piece of paper handy to clean my brayer on and it can be used for original wrapping paper or in a journal.
I put some of the gelli prints through my printer and this is the results:
I used my own black and white photograph of iris over the gelli print. If you look closely you will see lots of texture too.
Two photos over two different colored backgrounds. The first is a free download from www.friendlyscrap.blogspot.com. They have lots of free downloads and kits. I'm sorry I can't remember where I got the flower photo, but if you recognize it, please let me know so that I might give credit to the photographer.
Here's one of my favorite images of a bird over the gelli print. I love that you can see the textures and peek through colors of aqua and yellow.
It's been fun experimenting with paint combinations, textures and printing photos too! I hope you enjoy them and will come back to see what other ways I discover to use my Gelli Printing plate.
Bee Creative!
Suzy
Linking to: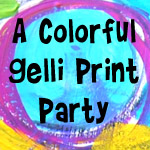 http://paintpartyfriday.blogspot.com/